Introducing the ultimate solution to all your jewelry storage woes – the Wall Jewelry Box with Stand! If you are tired of tangled necklaces, misplaced earrings, and missing rings, this innovative and space-saving storage solution is exactly what you need to organize and display your precious adornments in style. Crafted with elegance and functionality in mind, this sleek jewelry box seamlessly combines a wall-mounted cabinet with a convenient stand, offering you the best of both worlds. With limited space being a common challenge for modern living, our Wall Jewelry Box with Stand is a game-changer. Gone are the days of bulky jewelry armoires that take up valuable floor space. Embrace the future of organization with this unique design that optimizes your room layout while adding a touch of sophistication to your decor. The wall-mounted cabinet features multiple compartments, hooks, and slots carefully arranged to keep each piece of jewelry in its designated spot. No more searching for that elusive earring or untangling chains – everything will be right where it belongs.
The jewelry box's sleek exterior is complemented by a sturdy stand, allowing you to position it wherever suits your needs best. Whether you choose to place it by your vanity for easy morning accessorizing or keep it by your dressing mirror for a final touch before heading out, this versatile stand ensures that your jewelry collection is always within arm's reach. Its compact size also makes it a perfect addition to tight spaces, such as dorm rooms or small apartments, proving that you do not need a sprawling walk-in closet to keep your jewelry well-organized. Made from premium materials, the Wall Jewelry Box with Stand ensures the safety and preservation of your cherished pieces. The interior is lined with soft velvet, protecting delicate gemstones and preventing scratches. The cabinet's secure lock adds an extra layer of security, keeping your jewelry safe from curious hands or accidental spills. Additionally, the exterior of the box features a beautiful mirrored surface, allowing you to check your reflection stand up jewelry box and admire your jewelry ensemble simultaneously.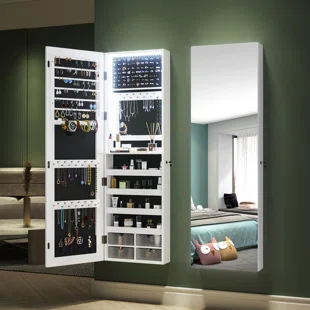 Not only does this jewelry box keep your accessories organized, but it also doubles as a stunning display piece. Showcase your favorite necklaces, bracelets, and earrings like pieces of art, transforming your jewelry collection into a captivating visual feature. The elegant design and practicality of the Wall Jewelry Box with Stand make it an ideal gift for jewelry enthusiasts of all ages, as well as a thoughtful present for special occasions like birthdays, anniversaries, or graduations. In conclusion, if you are ready to bid farewell to the clutter and chaos of traditional jewelry storage, the Wall Jewelry Box with Stand is your answer. Maximize your space, elevate your organization game, and add a touch of elegance to your living area with this exceptional storage solution. Embrace the future of jewelry organization today and unlock the full potential of your precious accessory collection.